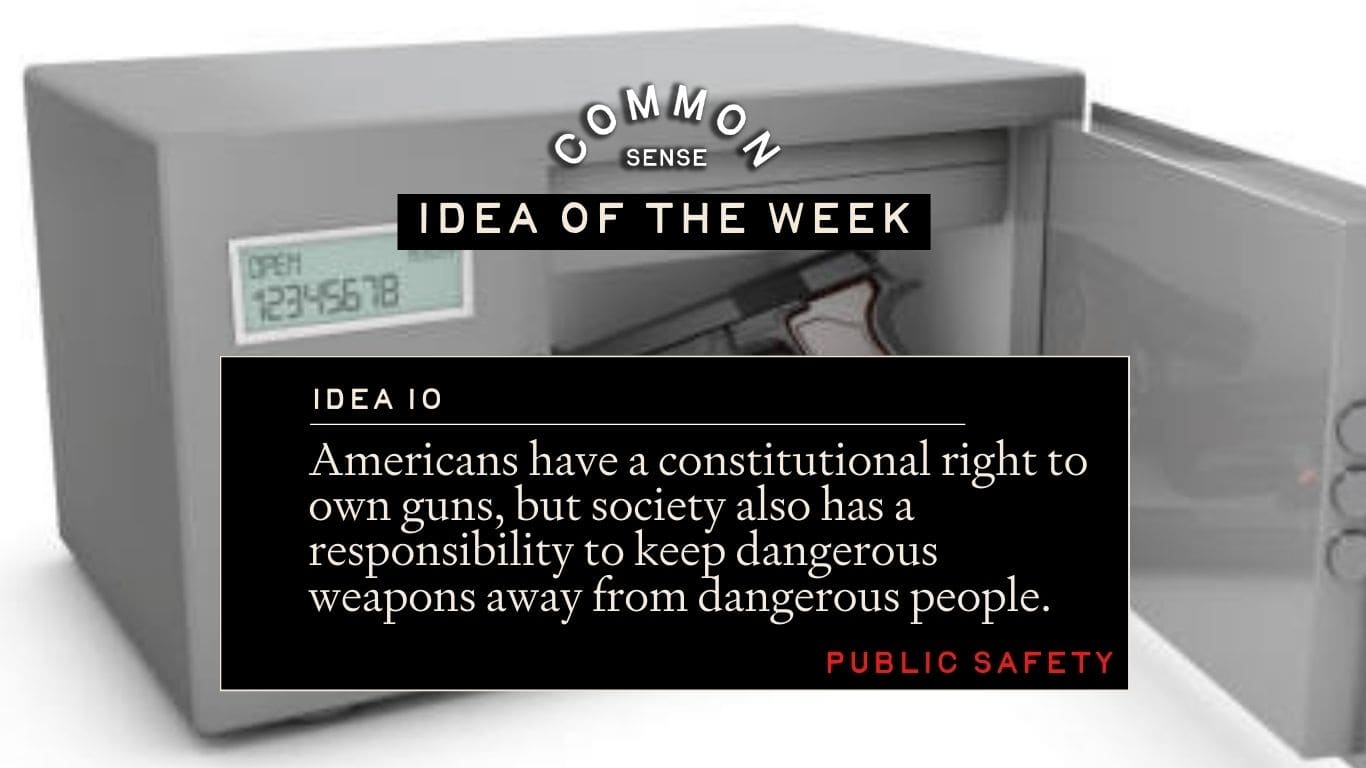 America Can Respect Gun Rights & Protect Lives - Here's How
Preserve Rights, Protect Lives?
I am for universal mandatory background checks and believe that any purchase of a assault rifle should require a minium age of 21and special permit with additional vetting.

The best thing we can do to stop gun violence is to actually prosecute those who commit violent acts with guns and incarcerate them.. Our current "catch and release" policies seen in most major cities is of benefit to no one except crimiinals.

If you are claiming that people less than 21 are too immature to handle guns, how can they be mature enough to vote, or to serve in the military. 

Closing the private sale loophole would possibly keep some guns out of unauthorized hands. Ten days seems like a reasonable time to process a NICS check, although since they are mostly computerized, it doesn't seem as though it would take that long.  More importantly, making certain unauthorized people are input to the system would be the biggest help.

I do think universal background checks may help some, though some mass shooters passed a background check. Unsure of age limit. Some high schools have a shooting as a sport - (skeet?). And, I live in a hunting area.

Still I would like to see limits on large bullet magazines. Perhaps assalt style weapons could be limited to rife ranges. 

 Congress let the Brady bill expire, as I understand, because it didn't reduce gun deaths. However, would it have help help reduce mass shootings?

America has enough intelligent people in the 21st century. We can figure out how to make comprehensive background checks that include mental health checks and domestic violence reviews without reducing the average joe's right to buy a gun. So it takes an extra three days to buy for someone to buy their third shiny AR-15. Who cares!?! Better then making it a breeze for the next deranged high-schooler strung out on anti-psychotics and aterall to take aim at my boys in school. Let's not buy into the fear tatic that somehow the government is going to move from comprehensive background checks to breaking down your door to take your guns. That's not a proper application of history.

IMO: Sensible gun rights discussion should be tied to a massive increase in funding for mental health services and an equal amount of funding to better support families and single parents. The best ways to prevent mass shootings are to get more eyes on each kid (counseling/parents/teachers/CPS) and create a better home for them to grow up in. That all takes money...but how much is another saving a child's life worth?

Americans have a right to own a gun, and they should not be villainized for doing so. However, certain responsibilities go with that right. They should know how to store their gun properly, operate their gun correctly and understand the state and federal laws around gun ownership. These issues are especially important if children are in the home. According to the CDC in 2022 firearms were the number one factor in child deaths for the third year in a row. All gun owners should be aware of the role that guns play in suicide, mental health, domestic violence and crime statistics. We can do better!

Both of these suggestions are common sense and wouldn't infringe on constitutional rights.  I would add one more element to the discussion.  Mental health factors.  We often see the results in the media, but the causes are rarely discussed.  How many times do we see a shooter that has a history of behavior and mental illness that should prevent them from owning a gun in the first place.  Felons are usually not allowed to own fire arms; I believe expanding this to those with a documented history of mental illness or juvenile criminal behavior should be prevented from doing so as well.

F

There is no gun law in the world that'll stop violence with firearms. Murder is already illegal. 

The 2nd amendment has supported our nation for almost 250 years.  Even today, there are instances where citizens have used lawful weapons to protect themselves, their family, and property.

Regardless, I do believe in some level of 'gun control'.  To me, that means registration of firearms including a background check that withholds authorization for felons, underage juveniles, and those whose proior behaviors (identified by education or civic officials or parents) make their access to firearms unsafe for them and us.

I also do not see the reason for civilians to have military weapons - other than as souvenirs or as collectibles - not capable of firing. I am not a gun owner, so cannot 'list' those weapons, but would leave that to some combination of legal gun owners and public safety officers. 

Absolutely common sense-background checks with requisite time to do so and increasing eligible age just makes sense. You are right -the frontal lobe in the brain isn't fully developed until mid 20's. Ergo stupid things we often see the young do. 

red flag laws and meaningful background checks can go a long way to stopping damaging gun violence.

we need to maintain the right to defend our homes families and property.