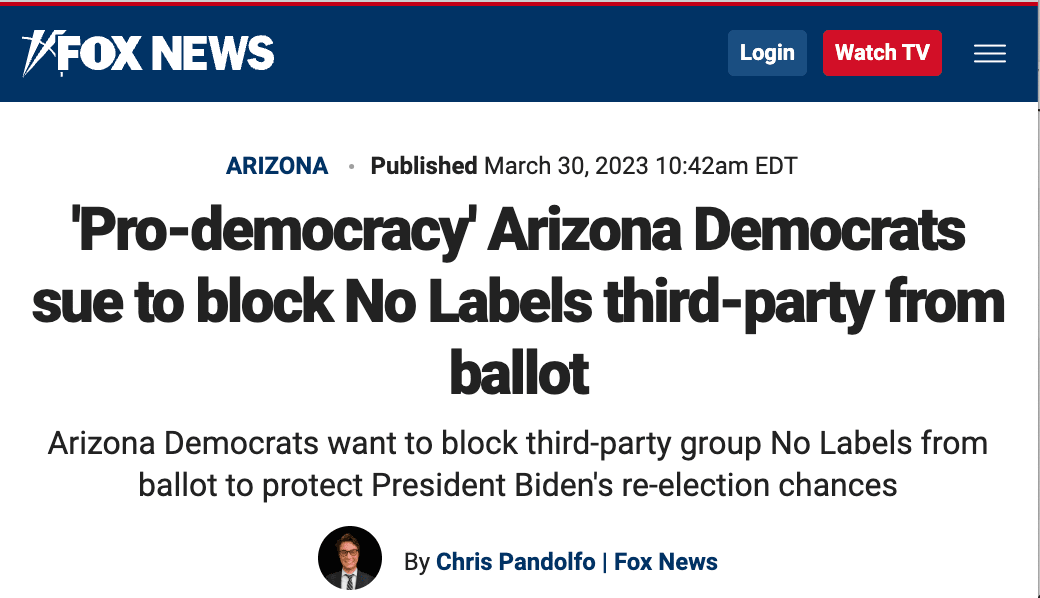 Democracy under attack in Arizona, we need your help!
After our successful (and official) certification for ballot access in Arizona, the Democratic Party is filing a lawsuit against not only No Labels, but also against Secretary of State Adrian Fontes and the whole state of Arizona.  Yes, they are suing to try and kick us off the ballot. 

This blatant attempt to rig the game in favor of the major political parties is an attack on every American who demands more choice when it comes to choosing our leaders. 
This is unacceptable and goes against everything our county stands for and we need to push back and condemn this behavior. We're asking our supporters to send a message to the Arizona Democrats that the gloves are off and we're not backing down. 
Show your support for fair and open elections and speak out against this blatant attempt to subvert the will of the people. 
Here are a few different ways to contact the Arizona Democratic Party: 
Email them with your opinion:

 
Call them and voice your frustrations:

 
Flood their Facebook page with questions about why they're trying to silence voters:

 
Tweet at them about how undemocratic this lawsuit is:

 
Help Make This Movement Possible
Donate